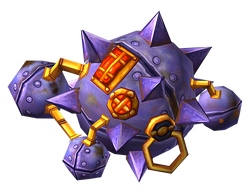 ---
Level 1
Level 2
---
Explodes when an enemy comes into proximity. Essentially a much more powerful (and expensive) version of the Mines. This creates splash damage to all enemies within a 3 tile radius (or more, for higher levels).
A Mine Bundle or Mega Bomb takes up the same amount of space (2x2) as a Hidden Tesla. If you have multiple places where your Hidden Teslas could spawn, placing Mine Bundles in the others can be effective, as your enemy may decide that the area is safe once they do not trigger a Hidden Tesla and spawn additional troops.
Unlike any other buildings, traps can be upgraded only for crowns.
| Level | Damage | Damage Radius | Upgrade Experience | Cost (Gold) | Build Time | Town Hall Level Required |
| --- | --- | --- | --- | --- | --- | --- |
| 1 | 123 | 11 | 0 | 12000 | 0 s | 11 |
| 2 | 148 | 11 | 60 | 25000 | 1 h | 12 |
| 3 | 175 | 11 | 120 | 50000 | 2 h | 13 |
| 4 | 206 | 11 | 360 | 100000 | 6 h | 14 |
| 5 | 241 | 11 | 720 | 200000 | 12 h | 15 |
| 6 | 282 | 11 | 1440 | 500000 | 1 d | 16 |
| 7 | 330 | 11 | 2880 | 1000000 | 2 d | 17 |
| 8 | 385 | 11 | 4320 | 2000000 | 3 d | 18 |
| 9 | 450 | 11 | 5760 | 4000000 | 4 d | 19 |
| 10 | 525 | 11 | 7200 | 6000000 | 5 d | 20 |